| | |
| --- | --- |
| | Universal Peace Federation - UK |
It is with great pleasure that we invite you to join us for an evening of food and fellowship at the annual dinner of the Universal Peace Federation UK which is dedicated to promoting peace, harmony and understanding across all cultures, religions, and nationalities.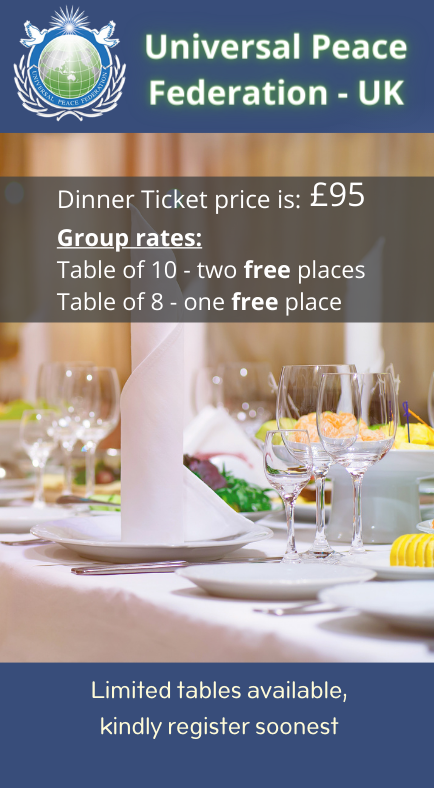 As a valued member of our community, we should be honoured to have you join us. As it is just after the end of Ramadan we are making this also an opportunity for our Muslim guests to celebrate Eid with us.
By attending this dinner you will be supporting our important youth work. With your help, we can continue to make a positive impact in our community and beyond. We now have a track record of providing exciting and successful community projects which bring together youth from different religious and cultural backgrounds so that they can learn from and appreciate each other creating a greater sense of cohesion in our future society. We hope that you will want to help us expand this work.
The dinner will be on April 23rd from 6pm at Hotel Rafayel in Battersea overlooking the River Thames. It is easily reached by train to Clapham Junction and then a short bus ride on route 170.
It will be a wonderful opportunity to meet like-minded individuals who share a passion for peace and to learn of the important work of the Universal Peace Federation UK. The evening will include a welcome drink, delicious meal, guest speakers, entertainment and an auction. Tickets are priced at £95 with proceeds going towards supporting our youth work.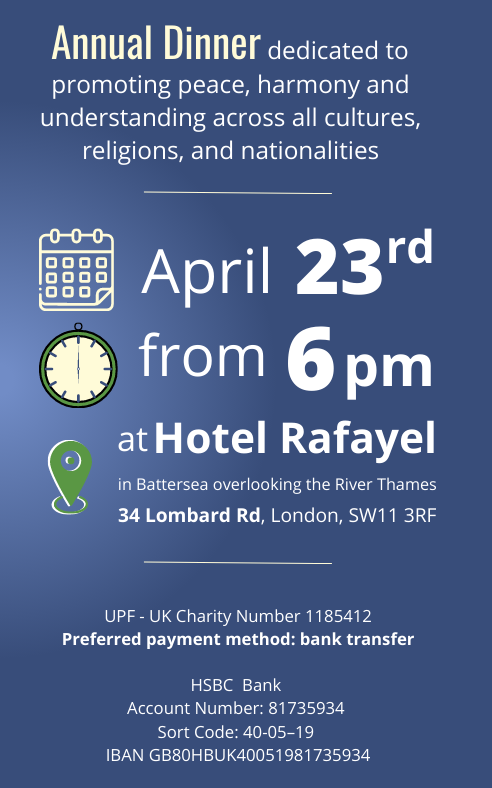 We hope that you will be able to join us for this important and inspiring event. Your presence and support will mean a great deal to us and would make a significant contribution to our efforts to promote peace and understanding in our world.

Dinner Ticket price is £95

Group rates:

Book One table of 10 - get two free places

Book One table of 8 - get one free place

Please RSVP to let us know if you will be able to attend by completing and returning the form below on the next page. We look forward to hearing from you and to seeing you.

Please click on the link below to register online:

Click here to register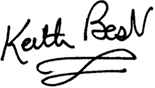 Keith Best
Robin Marsh
Margaret Keveran-Ali
Chair of UPF-UK Trustees
Secretary-General
Director